When the rains can be a curse, not a blessing
Since June, WFP has assisted over 44,000 people with a combination of food items, with thanks to donor resources.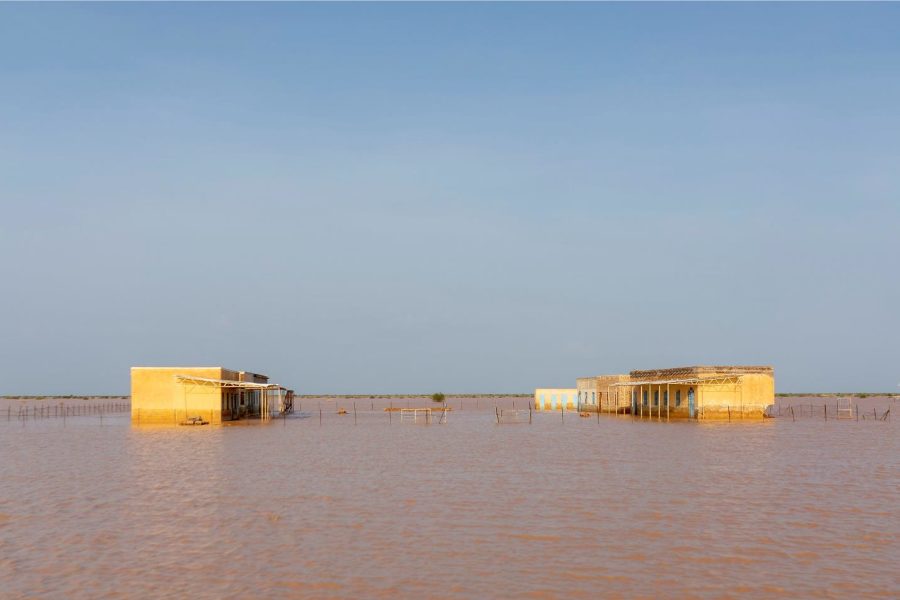 Photo | WFP/Muhammad Salah
It is the rainy season in Sudan which normally starts as early as May and extends to October. People, especially farmers eagerly wait for its advent to begin their farming activities, including cultivation of different types of food to cover their needs for the whole year. This year, however, nature has shown its unpleasant side. It harmed their livelihoods, not only ruining their farms, but also destroying their homes, displacing significant populations across the country.
It was a rare phenomenon this year, perhaps visual signs of some of the impacts of climate change. The river water overflowed the banks and joined the heavy rains, creating torrential flash floods which wreaked havoc across the country. According to OCHA, an estimated 364,230 people, including 78 deaths, have been impacted by heavy rains and flash floods across 17 out of the 18 states. Additionally, the Abyei area was also impacted, with 45,104 homes destroyed and 27,742 homes damaged. Affected populations now rely on emergency support from UN agencies and Non-Government Organizations for their survival. Life-saving food and nonfood items including tents, plastic sheets, blankets and mosquito nets are in high demand.
Sitting on a bag of sorghum, Kaltoum Mohamed waits to transport her food 'home', possibly by donkey cart or auto. She waits with many others to receive a mixture of food items donated by USAID including lentils, cooking oil and salt at an emergency WFP food distribution site in Um Rimta locality, White Nile State. The family lives in a makeshift hut made of bed sheets which she now considers a temporary home.
As a widow for several years, Kaltoum assumes sole responsibility of her 4 girls. With nowhere to go and no one to lean on for help, the floods washed away her only piece of stability, her home. She recalls moving quickly when the rains came, taking what she could of her belongings to a safer place to protect the family.
"We moved from our home to a highland where we erected a hut from our bed sheets, praying to God not to rain again. There is no body to seek for help because everyone is going through the same experience. We are all in the same boat", said Kaltoum.
An old saying that something must be seen to be believed. Images can't document the severity of the damage caused. Entire villages are inundated and deserted by the inhabitants who hopelessly took refuge at nearby highlands. They lost everything to the floods and left their residences empty handed.
The trip to this locality in White Nile State would normally take two hours, but given the floods, it took more than eight hours to reach some of the most hard-hit areas.
Omer, another victim of the floods, recounts the very moment when the rains became a curse. "As rain-fed farmers, we always pray for more rains. However, this time we pray to God for it to stop, knowing it will exacerbate the situation if it continues to pour." Omer is a father of 8 children currently living in the open air with the grey cloudy sky as the only roof over their heads. They are waiting for help with materials to erect a hut to live in until this is over.
"My children and I suffered a lot during the last few days. I have not seen anything like this in my life. The children were scared and started screaming. I did not know how to comfort them other than trying to calm them down. I told them that it would not last long. But, as if the rains wanted to embarrass me, it continued to pour unabatedly. The flash flood started washing our belongings away including our stock of food which we stored from last year's harvest," said Omer.
That was the moment Omer felt the danger intensify and decided to leave. They took the lighter belongings and left the bulk behind. The house collapsed after they left it and the flood washed away all the memories of their home.
While they are grateful for the support from humanitarian agencies, they do not know when and how they can rebuild their lives. Emotionally, the future seems bleak for Omer and those affected by this natural disaster.
Many other affected families are living in the open where the earth is muddy, and the nights are cool. They know the rains may come again at any moment. In the meantime, they wait for help. They need food and materials to erect makeshift tents to temporarily settle and protect their children until the rains stop. This year, the rains are indeed a curse.
UN entities involved in this initiative
Goals we are supporting through this initiative