13 November 2022 - 26 November 2022
Photography contest
The UN in Sudan invites amateur and professional photographers in Sudan to submit images that demonstrate courage, hope, solidarity, compassion, strength and love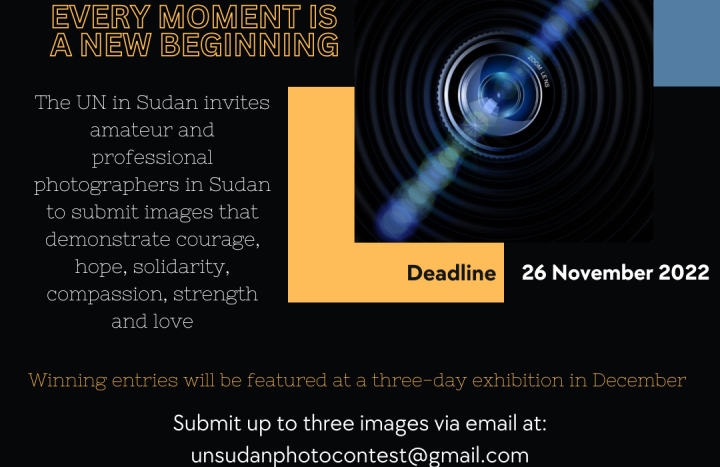 Sustainable Development Goals
No Poverty
Zero Hunger
Good Health and Well-being
Quality Education
Gender Equality
Clean Water and Sanitation
Affordable and Clean Energy
Decent Work and Economic Growth
Industry, Innovation and Infrastructure
Reduced Inequalities
Sustainable Cities and Communities
Responsible Consumption and Production
Climate Action
Life Below Water
Life on Land
Peace, Justice and Strong Institutions
Partnerships for the Goals
13 November 2022 - 26 November 2022
About the initiative
To mark the Human Rights Day, 16 Days of Activism Against Gender-based Violence and United Nations Day, the UN in Sudan invites amateur and professional photographers in Sudan to submit images that provide a glimpse into the daily lives of people living in Sudan while delving into the core of our common humanity through strong aesthetics and rich visual storytelling.
Themed "Every Moment is a New Beginning", the competition seeks images that demonstrate courage, hope, solidarity, compassion, strength and love. Images with messages of gender equality and inspiration for anyone exposed to violence are particularly encouraged. 
Entries must demonstrate the unique power of photography to transcend geographical boundaries, ethnic differences and language barriers to convey messages of hope and positivity.
Winning entries will be featured at a three-day exhibition to be organized in commemoration of the United Nations Day, where viewers will be motivated to take action and uphold to the shared values of humanity, especially by preventing and eliminating violence against women and girls.
15 distinguished entrants will be awarded prizes and one entrant will also receive the title 'Winner of the Sudan UN Day Photo of the Year'.
Please see 'Rules' below for full image eligibility criteria.
Deadline is November 26, 2022.
Rules
The competition is free to enter, and open to all amateur and professional photographers in Sudan.
By entering the competition, you hereby accept these Rules and the Terms and Conditions; you certify that you are the sole copyright-holder of all submitted photographs and they are original photos that you captured.
By submitting a photo to the Organizer, the entrant in the photo contest authorizes its release as well as the use of his/her name in the framework of the photo contest and its promotion without any form of compensation. Any other use of the photographs will be reported to the author, who is free to give or refuse consent for their use.
By submitting a photo to the Organizer, you agree to be responsible for any third party claims for damage suffered in connection with the entry, including but not limited to, claims for violation of copyrights.
The photos will not be used for commercial purposes by the Organizer.
Photos that have been awarded or given honourable mentions in any photo contest are not eligible.
Entrants under 18 years of age may participate with the permission of their parents or legal guardians.
Entries must be submitted by November 26, 2022.
By entering the competition, you agree and acknowledge that the United Nations is permitted to receive your registration information.
To enter, you must upload up to three images via this email address: unsudanphotocontest@gmail.com
Images should be no smaller than 1MB and no larger than 5MB. Images should be JPEG files.
Black and white photographs as well as coloured photographs will be accepted.
A shortlist of up to fifteen (15) photographers will be selected and announced prior to December 10, 2022.