Darfur Reshapes its Public Spending Processes
The UN provides support to address Darfur's payroll management and control through the development and implementation of an electronic payroll system.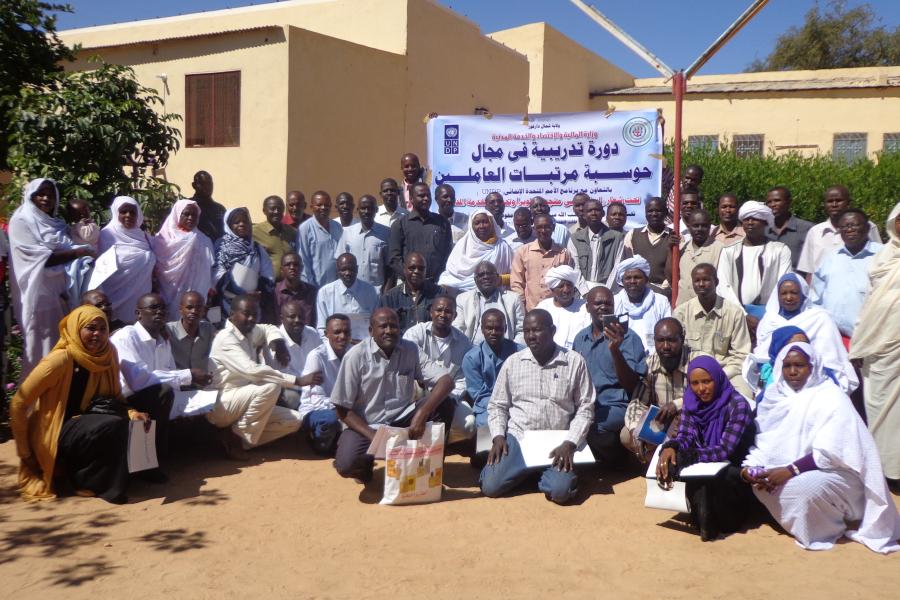 Photo | UNDP Photo
Planning a state's public spending on local infrastructure and basic services, and keeping reliable and transparent records of that expenditure, is crucial. All these processes boost citizen confidence when it comes to the integrity of public institutions and good use of public funds.
The five states of Darfur have taken some steps to improve their planning and public expenditure management processes and address the several challenges facing them. These challenges included inaccuracies in the record-keeping of revenue data and low revenue collection capacity in addition to high wage costs (for example, 80 percent of total spending in North Darfur). Moreover, manual systems and spreadsheets for payroll processing are highly vulnerable to financial losses, whilst institutional and human resource capacities continued to pose major constraints to state planning.
The Darfurian authorities asked the UN to provide its support, in collaboration with the Ministry of Finance, to address these challenges by strengthening revenue collection and reporting capacities through such tools as training and awareness-raising campaigns, as well as institutional capacity building. The UN is also helping to address Darfur's payroll management and control through the development and implementation of an electronic payroll system, which entailed the installation and development of a software in three out of five states, along with training. Moreover, the UN provided technical support for the review of the five-year strategic plan in North, South and West Darfur states.
The UN's efforts with national authorities have yielded tangible results. For example, the Ministry of Finance in North Darfur cost-shared the budget for procurement of 15 vehicles, which were subsequently purchased and allocated to several line ministries, and identified localities to improve revenue collection in the state. Because of improved logistical capability, and creation of additional revenue collection teams and points, revenue collection in the state increased from SDG36 million in 2010 to SDG149 million in 2013, as reported in the Auditor General's report for 2013.
"I am very pleased with the support that the Ministry of Finance in the North Darfur state has received from the United Nations in revenue collection and improvement. This is an example of very good partnership where an international organization has supported a state partner in meeting its targets and obligations to the people in Darfur. I am hoping that this practice will be replicated in other states of Darfur" stated HE Daoud Soleiman, Minister of Finance, Economy and Civil Service in North Darfur state, who commented on the results of the project.
In the final stages of the initiative, the UN worked with Darfur's authorities to complete the electronic payroll system, particularly in North, South and West Darfur. These are crucial steps that have already promoted significant change. The computerization of the payroll and sheets by the payroll sections has tremendously reduced the time involved in manual processing of the monthly salaries of state government employees, and reduced fraud and errors which previously dominated the transactions.
UN entities involved in this initiative
UNDP
United Nations Development Programme