Story
UN-Habitat and UNESCO promote vernacular architecture to enhance Socio-cultural sustainability in Sudan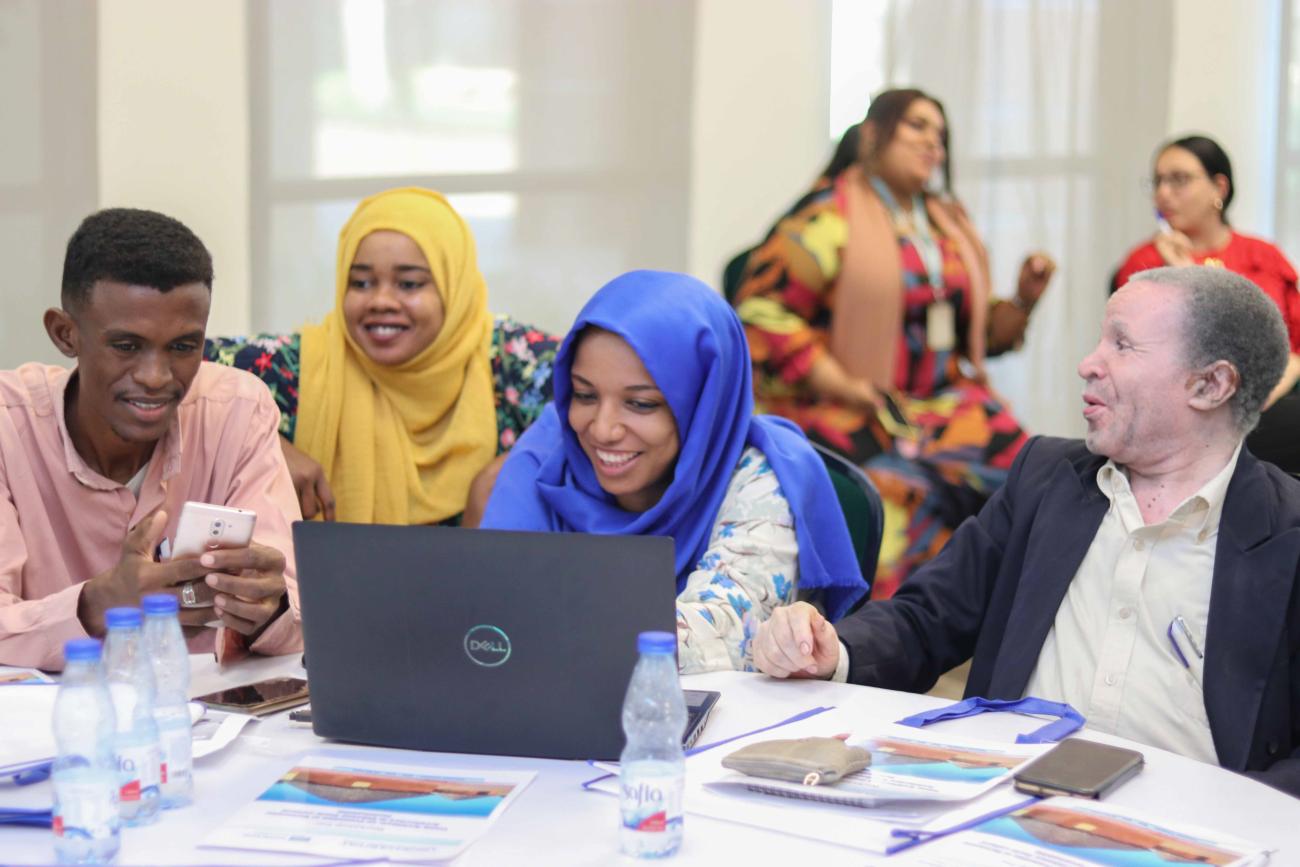 The initiative aimed to hear the voice and ideas of youth and to promote the preservation of Sudanese vernacular architecture
UN-Habitat together with its partner UNESCO have conducted the "Joint Workshop for Young Architects on Promotion of Vernacular Architecture to Enhance Socio-cultural Sustainability", at Petronas Complex Conference Hall, Khartoum, with the attendance of around 30 youth representatives with the profession of architect and urban planning coming from seven universities in Sudan. The workshop was divided into five working groups with the lead of five experts in the domain of architecture and socio-cultural sustainability.
Historically, vernacular architecture in Sudan has a great variety: the vernacular human settlements, hamlets and villages that materializes inhabitant's desire and capacity to exchange and co-existence under the social and cultural differences, and to maintain the conditions of social cohesions.
UN-Habitat/UNESCO joint initiative aimed to hear the voice and ideas of youth who represent around two thirds of population in Sudan, to promote the preservation of Sudanese vernacular architecture, use of local building materials, and brainstorm on the methods, ways, and design alternatives to conservation of vernacular architecture and human settlements.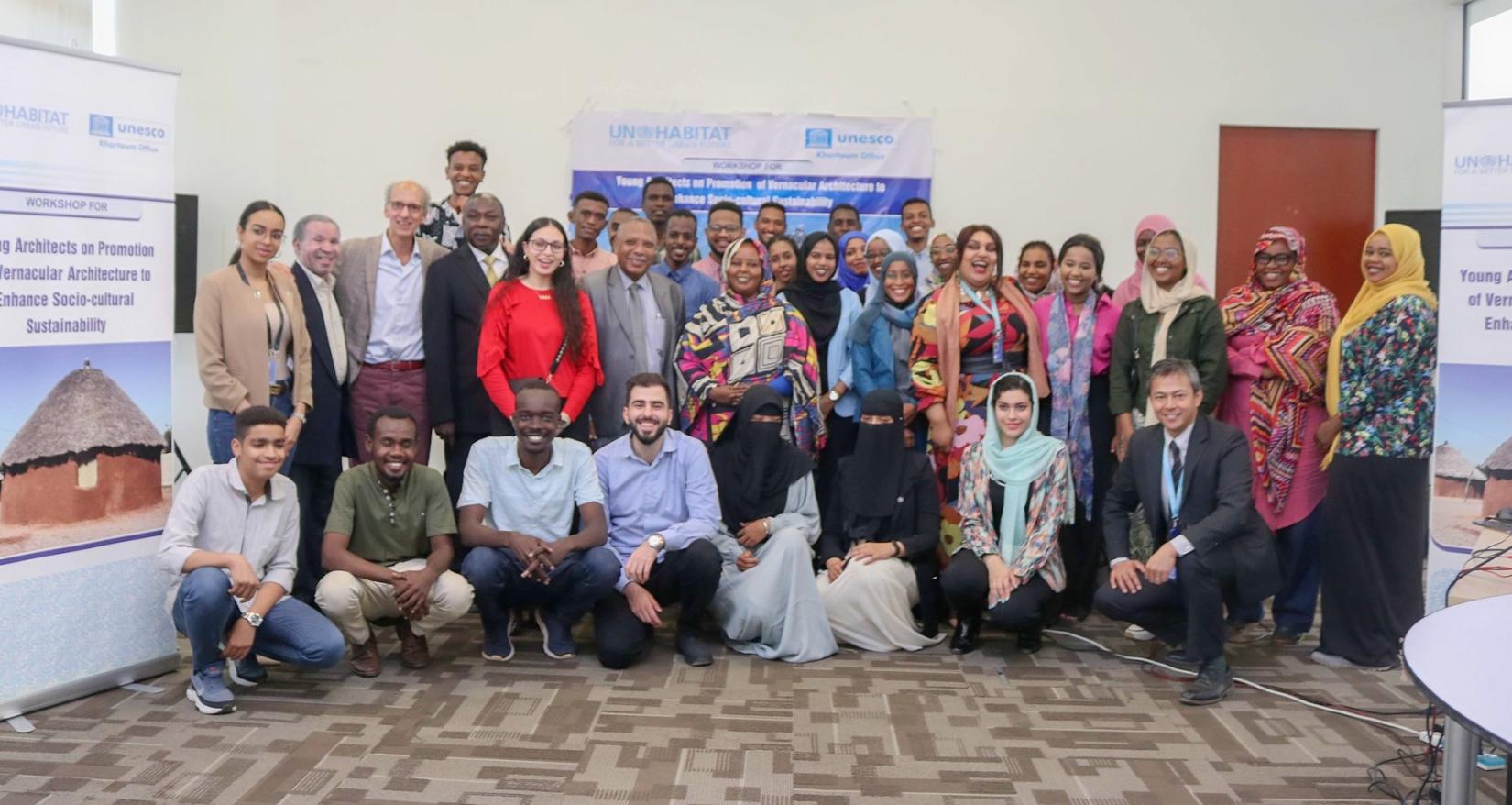 Mr. Masayuki Yokota, Head of Country Programme, UN-Habitat Sudan, welcomed attendees and appreciated active preparatory works by the youth and the experts, and highlighted the importance of UN-Habitat's support to youth empowerment for the contribution to the creation of better urban future and sustainable urbanization without leaving valuable socio-cultural assets of Sudanese community behind. Mr. Yokota also emphasized importance of the joint-inclusive exercise to unlock opportunities to progress the 2030 Agenda in particular SDG11: Make cities and human settlements inclusive, safe, resilient and sustainable, and one of its target 11.4 as a common objective of UN-Habitat and UNESCO. He also indicated' it's our duty to support creating platforms for youth to brainstorm and to innovate on sustaining socio-cultural assets of the country's urbanization process, capacitate them, as youth are key agents to the development and peace for Sudan.
In his opening remarks, Mr. George Papagiannis, Head of the UNESCO Office in Khartoum, Sudan, underlined that historically the built environment is organized and based on the needs of a community, and it is a direct representation of its identity; it reflects traditions, culture, and norms. Mr. Papagiannis emphasized that UNESCO is supporting these cultural sectors that is necessity for the future of the country. He also encouraged the young architects and urban planners to seize this opportunity to express their ideas, and perceptions on preservation of Sudanese culture and promote socio cultural sustainability.
Ms. Layla Osman, as an expert highlighted the need to prenservation of Sudanese culture, and utilization of Sudanese unique cultural phenomenon, for example, the tradition of Tea Ladies as an example of culture and gender work. A participant Mr. Abubakr Amer, young architect, commented 'it was a great opportunity to meet experts in the domain of Vernacular architecture and culture, share knowledge and exchange experiences with other Sudanese practitioners.  Another participant Ms. Esraa Abdelaziz, young architect, said 'We learned about many types of local building materials, and structure alternatives that changed our perspective on use of materials in future design.
During the workshop, active participatory approach was applied during the sessions, as participants young architects were divided into 5 groups, facilitated by expert architects/conservation specialists, who worked together to propose design ideas to different exercises, the results were innovative proposals inspired by Sudanese culture on five different exercises such as Tea Ladies shaded seating structures, culture café in the national museum, accommodation facilities in Jabal Marra and Wadi Halfa, among others.
To scale up the workshop activity, the participants created a social media platform to share ideas and build on the outcomes of the workshop. In addition, UN-Habitat and UNESCO continuously engage the attendees to seek substantive actions for applying the recommendations on sustaining socio-cultural assets of the country.
UN entities involved in this initiative
UN-Habitat
United Nations Human Settlements Programme
UNESCO
United Nations Educational, Scientific and Cultural Organization