Nutrition campaign saves little Amaar from malnutrition
"She is beautiful, and I want to see her in good health"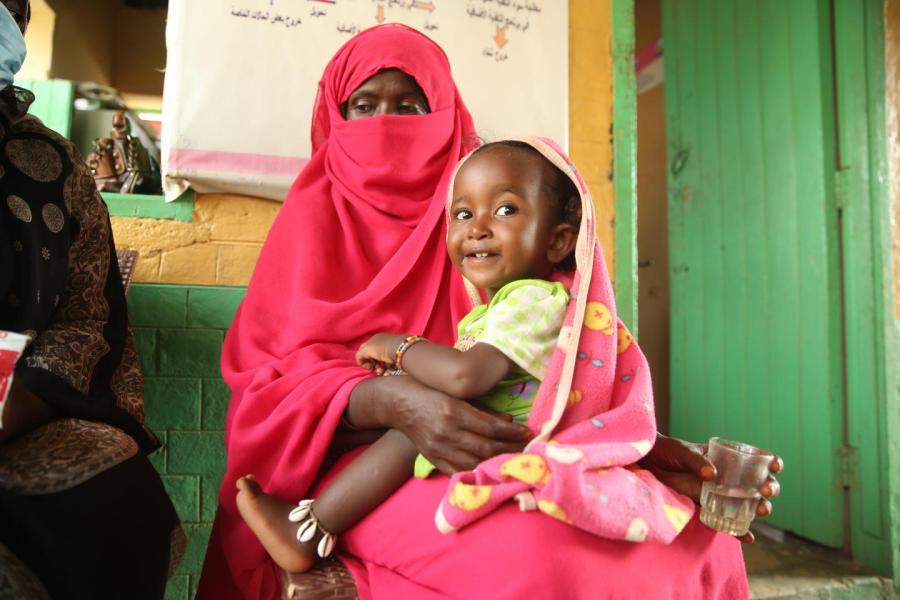 Photo | UNICEF Sudan/2021/Benhuweil
Eighteen months ago, Amaar Osman was born in a remote village in Toker locality in Red Sea state, eastern Sudan. One day her mother, Nisreen Salih Hamid, 35-years-old, noticed that her daughter's health was deteriorating but did not know what to do. When Amaar was born, she was underweight and facing many health issues.
During the monthly nutrition screening of children, an activity under the nutrition campaign led by the Ministry of Health in Toker, health workers visited Amaar's house and she was among the many children diagnosed with malnutrition. Nisreen was advised to immediately take Amaar to Toker General Hospital for medical assistance.
The hospital, located in the center of the village of Toker, is one of 114 UNICEF-supported health facilities that provides health and nutrition services for children and mothers.
At the UNICEF-supported hospital, Nisreen and her daughter Amaar were welcomed by Amoona, the health worker who took time to understand the little girl's condition and history. 
The conversation was followed by measuring the weight of little Amaar using the MUAC measuring tape wrapped around her little arm and height, using a measuring board. Unfortunately, the MUAC reading was 11.4 cm, an indication of malnutrition, as confirmed by the health worker.
Amaar was immediately registered under the outpatient therapeutic programme (OTP) where she received Ready-to-Use Therapeutic Food (RUTF), a high-energy food rich in vitamins and minerals, provided by UNICEF. Under the programme, Ammar will continue being monitored by the health workers until she completely recovers. 
Good nutrition is critical for child survival, health and development. Ready-to-use therapeutic food and health care services will help treat more children like Amaar so that every child can enjoy good health, achieve their full potential, and build a bright future.
With thanks to the United States Agency for International Development (USAID), UNICEF will continue to work with its partners to ensure every child in Sudan has access to proper nutrition and healthcare services.
By Hadeel Agab Ashi
UN entities involved in this initiative
UNICEF
United Nations Children's Fund